Are you planning an elopement in Oregon? As a filmmaker and Oregon native myself, I've had multiple opportunities to venture through the gorgeous locations that the Oregon landscape has to offer, as well as learn about some planning tips that I hope to share with you in this post!
When's the Best Time to Elope in Oregon?
Most people think of the fog and trees when they think of Oregon, but I personally believe the summers are the best time for weddings and elopements! Why the summer? Well, it's when all that BEAUTIFUL SUNLIGHT comes peeking through for those epic golden hour shots, the waterfalls come in full force for nature lovers, and there's no snow to worry about!
As for picking a day of the week to elope, definitely aim for a weekday! Oregon's landscape has become a tourist landmark (especially Multnomah Falls and Cannon Beach), and because of this, the weekends are usually pretty crowded with travelers. So if you want a more intimate elopement and less crowds, plan for a weekday!
Why Choose Oregon for Your Elopement?
There's so much I could say about why you should choose to elope in Oregon (totally not biased)! First of all, we've got beautiful landscape all over the state!! Oregon is such a versatile place with different types of settings: there's the city vibes in downtown Portland, mountains to climb up, trails to hike, waterfalls to chase for that photo-worthy mist in 🤩 and even beaches to catch the sunset at!
That being said, I know it can feel a little overwhelming on which place to elope at! So I've come up with a list of my top 5 elopement locations in Oregon!
The Top 5 Elopement Locations in Oregon
1. The Hoyt Arboretum in Portland, Oregon
The Hoyt Arboretum has a few options for elopements, whether it's at the Redwood Deck or the Wedding Meadow. It's perfect for privacy, especially if you're looking to keep your attendants small. The Redwood tree provides a stunning and majestic sight as the backdrop to your elopement.
Things to Know for Eloping at Hoyt Arboretum
The Hoyt Arboretum is a state park, so there are a few regulations to keep in mind. There's a deposit fee of $250, and a non-refundable application fee of $242.50. The rental fees will vary according to which spot you want to elope at within the park! Also, make sure to reserve your spot in advance!
2. The Tamanawas Falls in Mt. Hood, Oregon
Do you and your boo love to hike, and being surrounded by nature? If so, then the Tamanawas Falls in Mt. Hood, Oregon is perfect for you! There's even some cabins nearby if you'd like to stay there with your whole wedding party for a night before the big day.
3. Samuel H. Boardman
This state park has a great cliffside spot that overlooks the ocean and a few rock formations. If you're not afraid of heights, this spot is a great location to consider for your elopement!
Some Things to Know When Eloping at Samuel H. Boardman
You will likely need a special use permit to have a ceremony. You can contact the office directly to get precise information on which permits or fees you'll need to get.
4. Ecola State Park at Cannon Beach, Oregon
If you like the beach but also the moody vibe that Oregon fog gives, the Ecola State Park is perfect to capture both! This spot has a cliffside view of both the beach and the Haystack Rock in the distance, and when you come either in the early morning or near sunset, the lighting is perfect!
Things to Know for Eloping at Ecola State Park
This specific spot does require a special use permit, and the website mentions a requirement for a day-use parking permit (which you can purchase here).
5. The Columbia River Gorge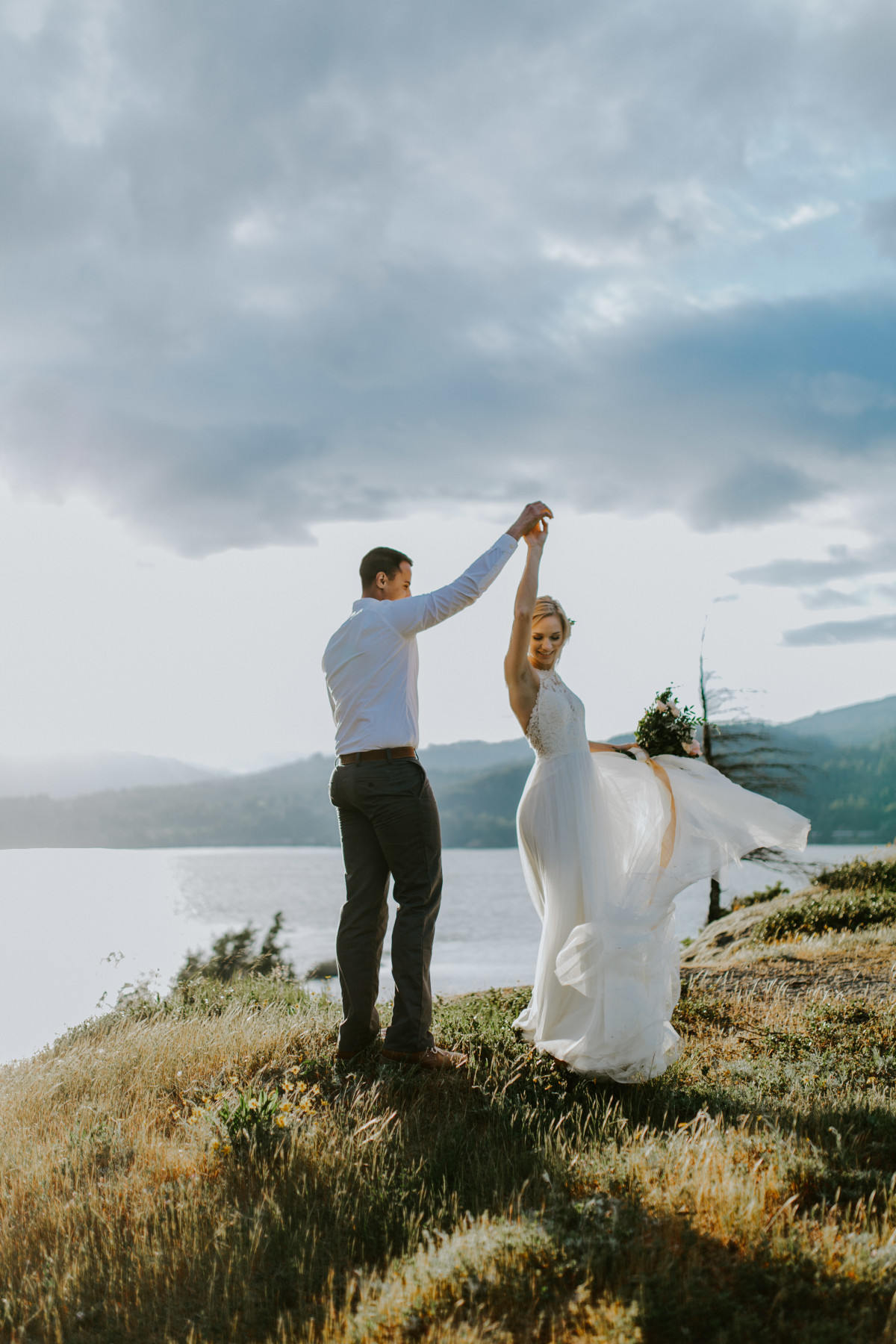 Last on this list, but definitely not the least, the Columbia River Gorge 🤩 This majestic river has much to offer — several waterfalls to choose from, a giant rock formation, mountains, and even the river itself (if you don't mind jumping in for some epic shots). It's also where the iconic Multnomah Falls are if you want some portraits taken after the ceremony 😎 If you couldn't pick just one from the above, this spot is the MOST versatile spot to consider for your elopement. There's also a few Airbnb's nearby if you'd like to party it up the night before the big day 😉
Things to Know for Eloping at the Columbia River Gorge
This river goes on for MILES so there's actually multiple spots to consider for your elopement, so you'll need to research who to contact for reservations, permits, etc. by spot. Speaking of which…
Things to Consider for Eloping in Oregon
Reservations
Some locations in Oregon actually require a whole process to apply and reserve the spot, such as the Hoyt Arboretum. So as soon as you decide on a location, check out the availability ASAP to make sure it's available on an ideal date!
Need a Place to Stay?
If you're not an Oregon local, or you live way too far from your ideal location, you'll most likely need a place to stay overnight. You can check for cabin stays if you want to keep the adventure going. But if you're partying with a small wedding crew, there's also several Airbnb's throughout Oregon and each location has a few choices within driving distance.
Permits
Every state park in Oregon has their own unique regulations, especially when it comes to ceremonies. Some parks even require you purchase a parking permit for the day. Make sure you check which specific permits you'll need to purchase for your big day!
A Bonus Tip
Speaking of permits!! Wherever you plan on eloping, don't forget about your vendors, like your photographer or videographer! Sometimes parks have extra regulations when it comes to filming or photographing on their site, so make sure to communicate to your vendor if they need a permit too!
I hope this helps you and I'm SO EXCITED that you're considering Oregon for your special day! If you'd like to have me there for your elopement, you can check out my packages here and reach out to book me here 😎